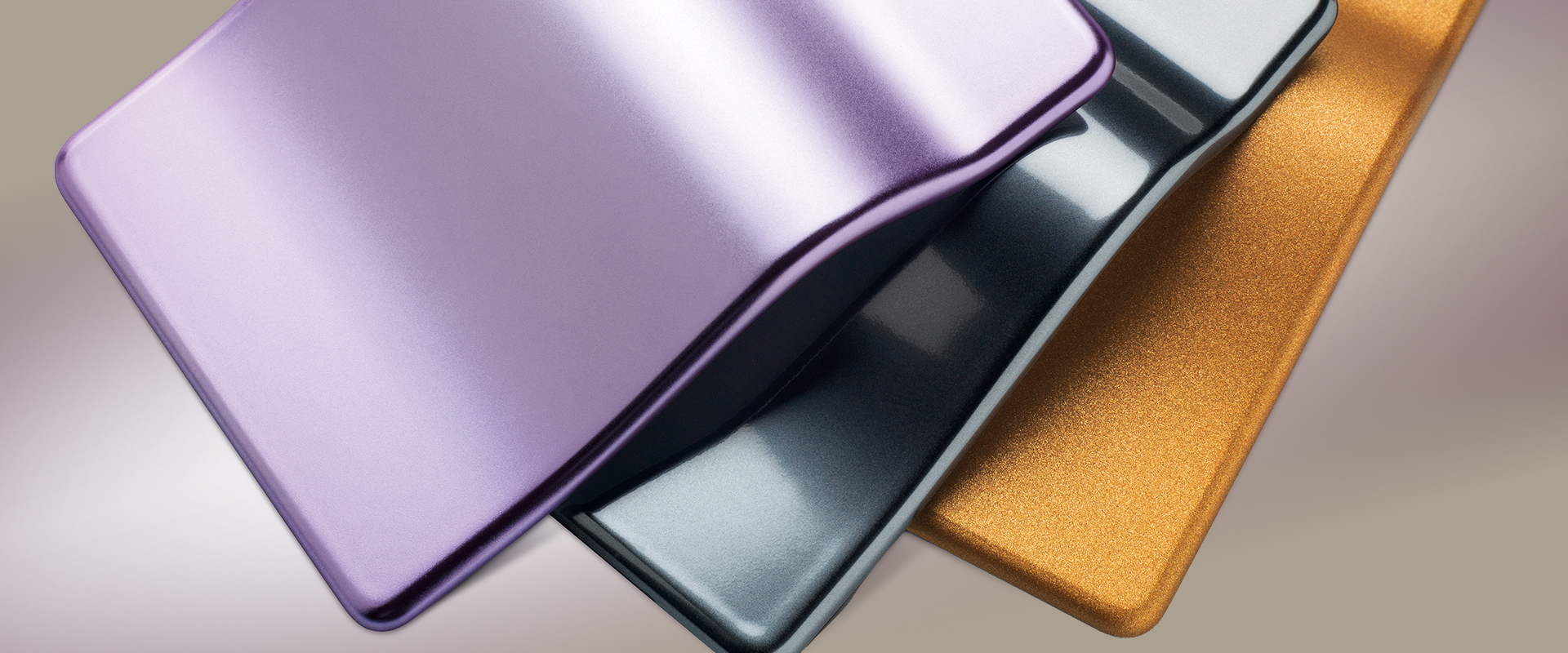 Systems and products
With our comprehensive product portfolio, we cover the entire range of wet coatings. The mutually compatible coating systems can be used on diverse substrates. Thanks to the unique possibility of obtaining optimally coordinated complete solutions from a single source – from primer to print varnish – you benefit from considerably simplified and shortened process sequences with increased reliability.
If required, we can create individual shades and effects for you, even in very small quantities, e.g. for small series.
Excellent resistance profile
Efficient complete system
Versatile
Customize and protect
Wide color and effect spectrum
Permanent preservation of the high-quality metal appearance
Reflection – chrome free chrome look
amazingly real chrome look
in automotive quality
environmentally friendly alternative technology
Brilliant color properties
Reproducible color consistency
Wide range of applications
Berlasoft – Softtouch clear coat
good adhesion
velvety effect
soft grip
good UV resistance
waterborne also available
BerlaGuard – Antimicrobial 2K PUR clearcoat system
Lasting effect
Free of biocides according to the Biocide Ordinance
Environmentally friendly
BerlaCare – for peripheral applications in the medical device sector
High-end system with 72h welding resistance
Unlimited design possibilities
Attractive price/performance ratio
Matched to PVD technology
Significantly solvent-reduced 1K complete system
Permanent preservation of the high-quality plastic surface
durable and malleable
Curing even in shaded areas
VOC-reduced coating solution
Berlac 2K PUR Hydro Topcoats
Can be used on plastic
Available in all imaginable effects and designs
Can be used as primers, basecoats and topcoats
1K stove enamel
Can be used as primers, basecoats and topcoats
Available in all imaginable effects and designs
Berlacryl – 2K PUR primers
available in different colors as well as colorless for galvanized substrates
Excellent adhesion to a wide variety of critical substrates
Quickly recoatable (wet on wet)
Berlacryl – 2K PUR top and base coats
Translucent, opaque, metallic and pearl basecoats
Approval for direct food contact
Berlacryl – 2K PUR clearcoats
High solids content and reduced VOC release
Haptic properties such as soft touch and anti-slip effects
Outstanding mechanical and chemical resistance
Berlacryl – Stoving polishing lacquers
Water-clear transparency and brilliant high gloss with extraordinary depth effect
Up to 800mµ (0.8mm) film thickness application
Excellent filling power
NCO or amine crosslinkable
highest cohesion
Adhesion to PA and TPU films
BerlaPrint – inks that stick and stick and stick
highest abrasion resistance
BerlaPrint – Printing Inks for Filigree
Edge sharp print image even with the smallest motifs
Large gloss level and shade selection
Also available as a silicone-free version for good overprinting/overcoating properties.
BerlaSign – phosphorescent paints
Afterglow colors for safety-relevant control systems
BerlaGlow – Afterglow colors
Afterglow applications for the watch industry
Berlaflex – elastic coatings
Excellent adhesion to ultra-flexible materials
laser markable: suitable for day/night design
Available as opaque and metallic topcoats, colorless or colored clearcoats
Berlapoxy – 2K stoving enamels
Excellent direct adhesion to various metals and electroplatings
Very high physical and mechanical resistances
Available in various base colors, silver and as clear coats
Berlapoxy – 2K casting varnish
Available in opaque or transparent shades
For laying out recesses and for color separation or highlighting
Different degrees of hardness
Berluran – 1K PUR topcoats
1K stoving enamel for low stoving temperatures
available in all conceivable shades (opaque topcoats, colored or colorless clearcoats, metallics and pearls)
High chemical resistance
Protection against contact with air and moisture
Great variety of effects and colors
Available as transparent, colored or pigmented opaque systems